Past Exhibitions
Current Exhibitions
Future Exhibitions
Back to Exhibitions

Josephine Oliver Travis. Untitled, circa 1923–1933. Pastel on hand-gritted paper, 4 x 8 1/16 inches. Collection of Deborah Rosenfeld, Dallas

Josephine Oliver Travis. Untitled (Cicada and Jumping Spider at foot of Arrowhead Mesa), circa 1923–1933. Pastel on hand-gritted paper, 6 1/2 x 9 11/16 inches. Collection of Lesley and Pierre M. Schlumberger, New Braunfels

Josephine Oliver Travis. Untitled, n.d. Pastel on hand-gritted paper, 4 5/8 x 8 13/16 inches.

Josephine Oliver Travis. Untitled (Tule Canyon), n.d. Pastel on hand-gritted paper, 5 1/16 x 8 5/8 inches. Tyler Museum of Art

Josephine Oliver Travis. Untitled, n.d. Pastel on hand-gritted paper, 4 5/8 x 8 7/8 inches. Collection of Mr. and Mrs. Charles R. Adams, Dallas


Earth & Sky
The Pastels of Josephine Oliver Travis (1908–1991)
May 19–August 19, 2007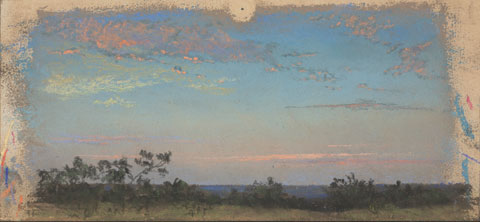 Josephine Oliver Travis. Untitled, n.d. Pastel on hand-gritted paper, 4 x 8 5/8 inches. Josephine Oliver (1908–1991) was born in Paris, Texas, in 1908, and moved with her family to Oak Cliff in 1911. In 1920, her family rented the main house on a property owned by Frank Reaugh (1860–1945), one of Texas' most respected artists and teachers. Reaugh quickly realized the 12-year-old Josephine Oliver had great potential as an artist and uncommon proficiency with the violin. She started taking art classes with Reaugh and in 1923, at 15 years of age, joined Reaugh and a group of his students on a month-long sketching trip to West Texas. Shortly thereafter, Josephine became Reaugh's teaching assistant overseeing students who were expected to sketch up to four pastels a day on the expeditions. By 1933, she had traveled to West Texas eight times with Reaugh and company, sketching many of the region's most scenic landmarks including Big Bend, Double Mountain, Tule Canyon, Blanco Canyon, and Margaret's Peak. On her last trip in 1933, she developed a friendship with Olin Travis (1888–1975), another well-established Dallas artist. They were married two years later and Josephine turned her attention to the violin, eventually playing with the San Antonio, and then the Dallas Symphony Orchestra, until her retirement in the late 1970s. She passed away in 1991 at 83 years of age. The exhibition consists of over 70 pastels Josephine sketched on the Reaugh expeditions between 1923 and 1933. Her surviving younger brother Joseph K. Oliver knew his sister had left the sketches stored between magazine pages but did not realize until recently how many there actually were. He discovered over 140 works, which illustrate how truly accomplished an artist Josephine was even at the young age when she was sketching. Her pastels are comparable in many ways to those of her mentor, Frank Reaugh. Other works in the exhibition include a pastel sketch by Frank Reaugh, as well as one by her fellow art student, Eleanor Adams (b. 1909). The pastel by L.O. Griffith (1875–1950) is of Reaugh's house, which was rented by Josephine Oliver's family from 1920 to 1935. A portrait of Josephine by her husband, Olin Travis (1888–1975), is also included in the exhibition. The Tyler Museum of Art is grateful to the many lenders to this exhibition, particularly to Jean and Joseph K. Oliver, and Valley House Gallery, Dallas. After June 30 there will be an installation of approximately 50 works of art, with new works being exhibited through August 19.
---
Past Exhibitions | Current Exhibitions | Future Exhibitions | Back to Exhibitions